One time contribution:


Yoga 4 Love Studio Mission Statement
We provide encouragement, coaching, and support for our students, guests and members. We focus on the whole you; mind, body and Spirit, in a safe environment where we can achieve whatever we dream.
Yoga 4 Love Studio is committed to the highest level of professionalism and service. We encourage a spirit of community and enthusiasm that is contagious.
Let us amaze you, and you will amaze yourself!
YOGA 4 LOVE STUDIO CLASS CALENDAR
Unlimited Yoga Membership on Monthly Contribution, auto pay
Yoga 4 Love Studio Cabin only offers private studio unlimited memberships to those students and teacher trainees who plan on attending regularly. We are a quaint, and awesome private studio where we honor our community and members. Come try a class and see if we are a fit for you, and if you resonate with our members please join by clicking the membership of choice here, online!
Membership Rate Options, Drop Ins, Intro Deal and/or Class Packs available below!
We are more than just online classes and yoga teacher trainings! We have a full service contribution based yoga studio!
Our Yoga 4 Love Studio Cabin features Hot Yoga classes utilizing Spa technology of Far Infrared Heat.
Here's how to get going on your Yoga 4 Love journey:
Donate with one of the payment or membership selections below.

Click the Calendar button to sign up for each class you want to attend!

YOGA 4 LOVE STUDIO CLASS CALENDAR
At Yoga 4 Love we are Mind, Body and Spirit based to nurture the whole you. We are privately located on the creek overlooking a beautiful waterfall, where you can commune with like-minded individuals.
Yoga 4 Love has an emphasis on HOT YOGA with spa technology Far Infrared Heat in a Traditional Vinyasa Flow Yoga style. We have a special focus on energy healing and sound healing. We offer yoga retreats, drum circles, kirtan concerts, special events, lifecoaching workshops and Yoga Teacher Training Online 200 hour and 300 hour.
Relax and retreat. Sweat. Get healthy.
Become a stronger you.
Find your TRIBE.
Discover your true Self, right here on the mat.
Monthly Unlimited Classes on Contribution Basis
This is a new business model for our studio!
Simply enroll online here to donate a monthly amount to gives back to the studio. In return, receive unlimited classes with a rate that you choose, which fits seamlessly into your family's monthly budget.
We simply ask that you subscribe for a minimum of 3 months and give a full 30 day notice in an email if you intend to stop your subscription.
This subscription includes all Hot Yoga and Yoga classes on the calendar and some special events.
YOGA 4 LOVE STUDIO CLASS CALENDAR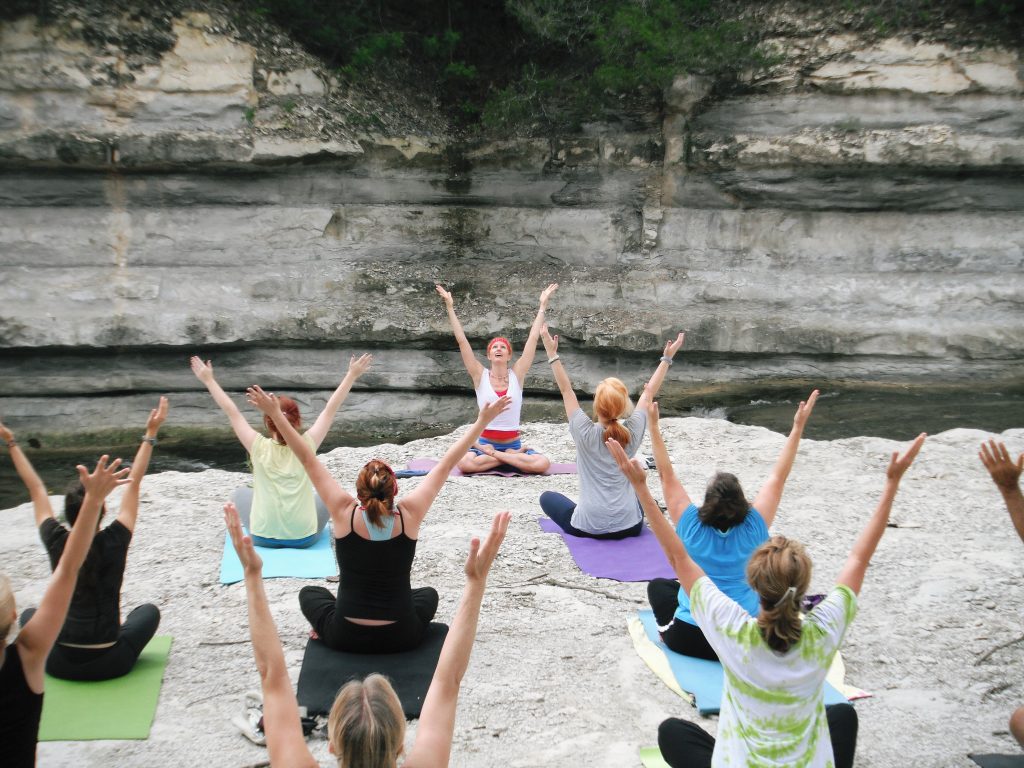 The Yoga 4 Love Studio Cabin is a HOT YOGA STUDIO heated with Far Infrared Spa Technology.
We are located in Ovilla, Texas.
We offer:
Private Sessions for:
Come to a Hot Yoga in studio class or join us for an outdoor group class at the waterfall!
Our group classes are 100% Contribution based!
Donate today, then sign up for a class!
Audio + Video Classes
Available streaming live on YouTube!
Subscribe to Lisa Ware Yoga 4 Love on YouTube
Take FREE classes online if you can't make it to the studio!