Come Experience the Colorado Adventure with the Goddess Tribe! Registration Coming Soon, Contact Us Today!
Yoga 4 Love Colorado Adventure 
August 5th – 14th, 2021! 
Enjoy 10 Days of Goddess tribe sisterhood. You will also have the benefits of Reiki and crystal healing and so much transformation. Yoga is an ancient practice of mind, body, and spirit.  Come, answer the call to experience magick, renewal, refreshment and community. Private and shared lodging options available! Please note with shared lodging each registrant must be booked individually.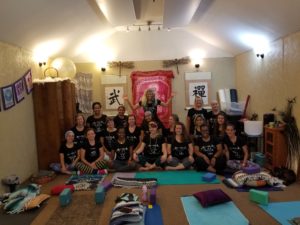 Includes:
Morning Yoga and mediation (required attendance)

Mandala rock painting and the meaning of mandala and make a big one that we erase at the end (like we are supposed too)

2 Aerial yoga classes at Alana's studio

Brunch for days that we are at location 

Dinner with day excursions

Water, Chai, Coffee/tea bar

Vegetarian, Vegan And Gluten Free brunches

Dinners will be out or called in to the campground, group orders will be made and decided upon each day.

Meat is an option for a couple meals, as an add on.

 
Outside Excursions:
Mesa Verde National Park, needs entrance fee 

Paddleboard rental with beach day

Telluride Aerial Tram

White Water Rafting

Full day hike to Hope Lake with hot springs afterwards and eating at the local restaurant.

Extra day add on: 

½ day horseback trail riding in mountains 

Ceremony on Sacred Native American Reservation

Kambo
What's not Included? 
Travel expenses

Flight

Car rental

Shopping 

A couple lunches

Questions: Please PM Lisa Ware Yoga 4 Love on Facebook
or email us: 
hello@yoga4love.com 
303-957-0189 text Lisa Ware
WhatsApp Lisa Ware Aiylah Valkyrie 1303957018