[rhc_title]
[rhc_dbox]
[rhc_label label="3 Day Intensive Retreat"]
Location:
Yoga 4 Love Studio Cabin
on the Waterfall
Ovilla, Texas
[rhc_start][rhc_end]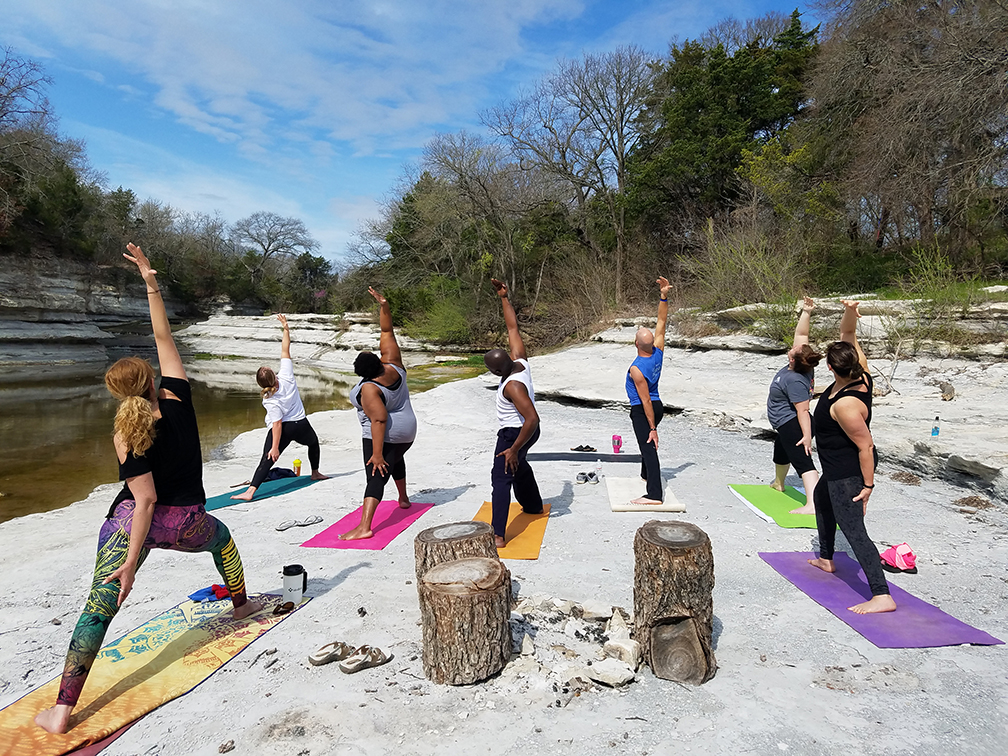 Yoga 4 Your Inner Goddess Retreats 3 Day Intensive:
Every summer we offer a yoga training program intensive and retreat in North Texas. These retreats are five fun and interactive days consisting of many yogic centered activities. Every morning we begin by a guided meditation. Most days we begin outdoor by the waterfall and move into a lovely Vinyasa yoga practice with the rising sun. We spend the day with an agenda full of workshops: hands-on teaching and assisting, specialty workshops and feature guest Yoga 4 Love faculty teachers.
At the 2.6 acre facility, Yoga 4 Love Studio Cabin, we offer Far Infrared Heated classes, a full shower, fresh green juices and smoothies and hot tea. We have horses on the location as well as many open acres for floating on the river, hiking and relaxing in the sun. Stay off site and shuttle in daily for class and retreat offerings. Meals are community style during the day at retreat. Dinner is off site, at your leisure after the optional evening hot yoga practice.
Please schedule the retreat online on our website. This retreat counts as your hands on hours for Yoga 4 Love Advanced Training Program students and all classes and workshops are eligible for CEU's with Yoga Alliance. Must register for Early Bird pricing 10% off.  Make deposit to hold your space. Must make final payment 30 days before event for Early Bird rate.
Cost
COST:
$225 Early Bird Rate; 25% off!
$300 after 10/31/17, space permitting.
Payment plan available:
$75 down payment. For early bird rate deposit is made online then final payment must be paid in full 30 days before event.
LODGING:
Tent Camp site on property $25/night cash
Cabin group sleeping, bring bedding $25/night cash
Guest room in house $50/night
CLICK 'GET MORE INFO' for the Lodging Form.
RETREAT AGENDA:

November 10-12, 2017
Optional Pre-Day 1 11/9 Reiki 1 or Reiki 2
Meals: Potluck style lunches and snacks, grocery store close by and refrigerator in studio. Dinner is not included in scheduling.
Local Hotels: No group rate, search for hotels/motels in 75154; hotel pickup and drop off available with prior arrangement.
Join us for an OMazing retreat held at the Yoga 4 Love Studio Cabin on the Waterfall. Ready to delve deeper into your Yoga?
Delve deeper into your study of the 8 Limbs of Yoga. Asana practice is just one limb! Enjoy discussion and experience another level of this study with like-minded people. Explore deep topics including guided meditation, yoga lecture, energy healing, Reiki, philosophy, history; anatomy practical application, hands-on assisting with director, co-teaching, video teaching, teaching to special populations, the business of yoga.
Experience hospitality like no other on the grounds of Rocky Falls.
After class daily you will have time to go ouside by the waterfall and relax or chat with new friends by the fire. Hiking and morning yoga will be at the river, weather permitting. Ready for a retreat?
RETREAT SCHEDULE:
Yoga 4 Your Inner Goddess TX Holistic Wellness Retreat with Lisa Ware and Tatianna Miller at Yoga 4 Love Studio Cabin
11/10/17
FRIDAY
12:00-12:30 Arrival, Registration, Settling In
12:30- 1:45 HOT Class Prana Vinyasa with Lisa and Tatianna
1:45- 2:00 Break; Snacks, potluck
2:00- 3:00 Walk, Yoga and Hike at Waterfall (unguided)
3:00-5:00 Class Heal your Life
5:00-5:15 Break
5:15-6:30 Class Consciousness Lecture, Tattvas, Gunas and Koshas; we are energetic beings, learn about the ego natures vs the Divine. Learn ancient practices and apply new and universal tools to help with your path to enlightenment.
6:30-8:30 Dinner out
8:30-8:45 Meditation/Guided Journaling
8:45-9:30 Fire Ceremony
11/11/17
SATURDAY
7:00 am Wake up/shower
8:15-8:45 Outdoor Meditation at the Waterfall
9:00-10:00 HOT Yoga Class, open to public (option for TT to assist)
10:00-11:00 Breakfast; potluck
11:15 Carpool/Drive to Cosmic Yogi Festival Addison
12:15 Free time and lunch at Cosmic Yogi Festival
Cosmic Yogi Festival~ Lecture with Lisa Ware
Cosmic Yogi Festival~ Lecture with Tatianna
Cosmic Yogi Festival~ Class with Lisa and Tatianna
Stress-Less; An introduction to applying holistic principles to your daily life in order to achieve true balance and well-being. Learn the tools to design a live well lived.
Vinyasa Soul Flow + Reiki with Lisa Ware and Tatianna Miller
Connect to Soul with a slow flow. Deepen, move with intention, enjoy Reiki + crystal bowls.
Better Life, Clean Eating + Healthy Living with Lisa Ware
Healthy living starts with the whole you. Prana is life force; learn about the power of plants and whole food. Simple solutions, research, tools plus free resources for meal planning
6:00 Leave Cosmic Yogi Festival
6:00-7:30 Dinner out: Mocktails & Fun
Carpool/Drive To Yoga 4 Love Studio Cabin
8:30-8:45 Meditation
8:45-10:00 Movie Night in the Cabin 'Eat, Pray Love'
11/12/17
SUNDAY
7:00 am Wake up, shower
7:30-8:30 Class Gentle Heat~ Meditation in Movement with Lisa and Tatianna
8:30-9:00 Breakfast~ Green Smoothies and Clean Eating Talk
9:30-10:30 Class Return to Love; Heart opening and chakra centering with a focus on how to create the life you want.
10:30-10:45 Break, Free Time
10:45- 11:45 Class The Physiology of Yoga; Understanding how the body works is essential to deepening your practice and sequencing your moves.
11:45- 12:30 Lunch
2:00-3:30 Class Affirmation Creation and Goal Setting Workshop; Lifecoaching 101; In this session you will be guided on how to properly create your own affirmations, make affirmation cards, set goals and create action steps toward living the life you dream.
3:45-4:00 Graduation Ceremony for Y4L Trainees, Photos and goodbyes
Indiviaual Coaching and Private Session Work with Lisa and Tatianna available, please inquire.
Reiki Level 1 or 2 Attunement available; come early on Thursday 11/09/17 at the Yoga 4 Love Cabin Studio. Please email Lisa Ware instructor@yoga4love.net