The 4 Paths of the Yoga Lifestyle with Lisa Ware
September 6, 2019

Posted by:

lisa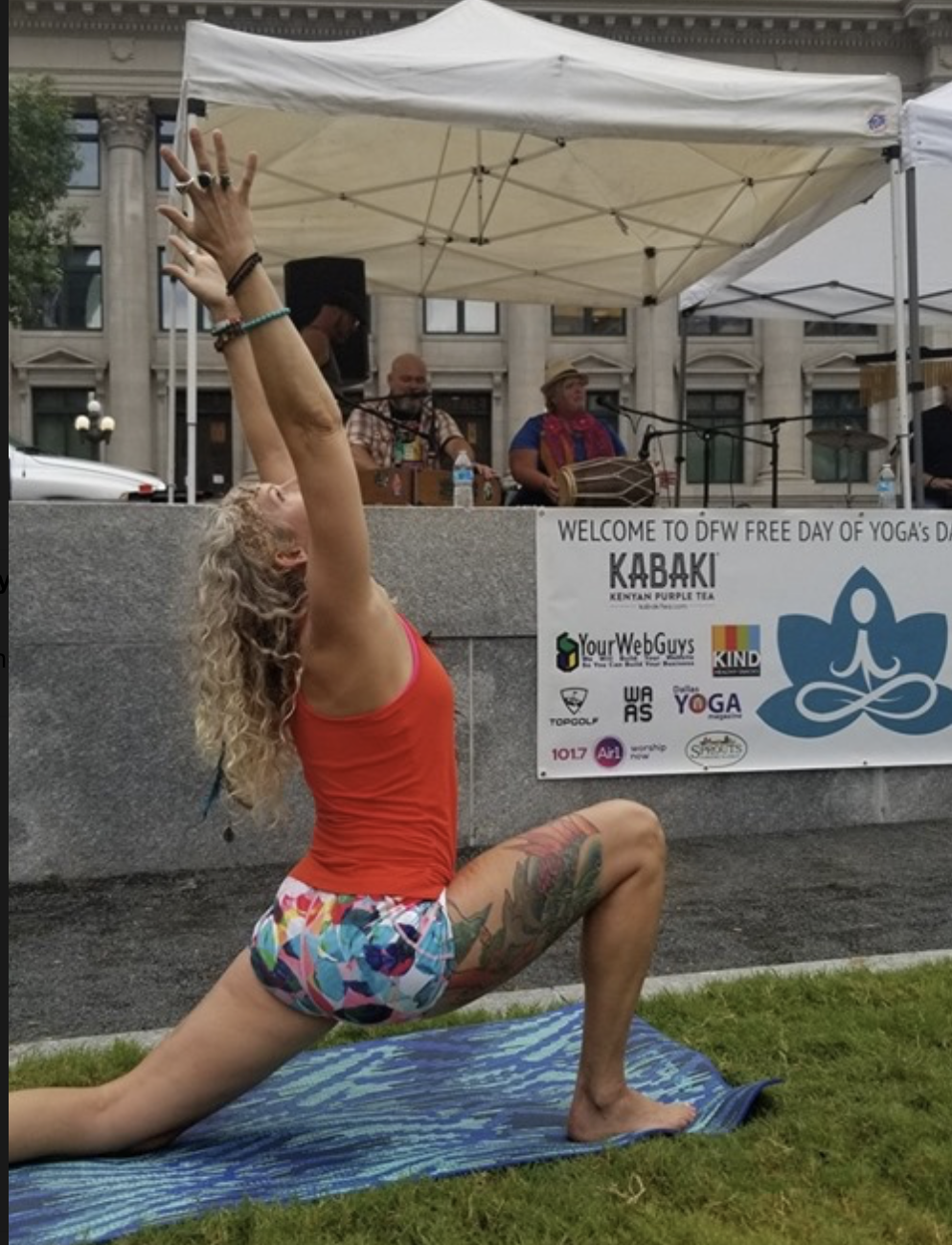 Participate in learning more about the yoga lifestyle! Please join us in posting on Instagram with the challenge  with our partner @dfwfreedayofyoga and join in the challenge for some awesome giveaways online! Use hashtags:
#dfwfreedayofyoga
#dallasyogafestival
#4pathsofyoga
To learn a little about the yoga lifestyle we must first learn about the Paths of Yoga. I am  called to share a bit about this ancient teaching of the 4 Paths of Yoga with an excerpt from my book,​ Yoga 4 Love Tools for Mind, Body and Spirit: For a Holistic Lifestyle​.
The 4 Paths of the Yoga
Karma Yoga is the selfless devotion of all inner as well as outer activities as a Sacrifice to the Lord of all works, offered to the eternal as Master of all the soul's energies and austerities. ~Bhagavad Gita
In the past two decades, yoga has moved from relative anonymity in the West to a well-recognized practice offered in thousands of studios, community centers, hospitals, gyms, and health clubs. Although yoga is commonly portrayed as a modern Western fitness trend, it's actually the core of the Vedic science that developed in the Indus Valley more than 5,000 years ago.
The word yoga derives from the Sanskrit root yuj, which means union with the source of existence or to yoke. Enlightened consciousness is also referred to as the state of enlightenment in which there is complete freedom from all conditioning and one is no longer
The 4 Paths of the Yoga Lifestyle are constrained by habit, past experiences or "karma," and any forms of dogma or ideology. It is a state of spontaneous creativity, love, compassion, joy, and equanimity. These are known as the qualities of the Spirit. ​2​ Yoga is the means of yoking our awareness to the deep rhythms that heal and integrate us in an age that challenges our inner compass to stay in the flow. ​3
Yoga has evolved and blossomed over thousands of years, and numerous forms, styles and schools of yoga have developed. Traditionally there are four types of yoga:
1. Jyana or Gyan Yoga – The yoga of the intellect, science, and knowledge
2. Bhakti Yoga – The yoga of love and devotion
3. Karma Yoga – The yoga of service and action
4. Raja Yoga – The yoga of meditation, physical poses, and breathing practices
Raja yoga is most commonly referred to as the 'royal path of yoga'. It focuses on practices that take our awareness inward and promote the integration of the mind, body, and spirit. The classic text on raja yoga is the Yoga Sutras, attributed to the legendary sage Patanjali. While the exact dates of Patanjali's life and writings remain fuzzy, scholars estimate that the Yoga Sutras were written at least 1,700 years ago.
The four main paths of Yoga: Karma Yoga, Bhakti Yoga, Raja Yoga and Jnana Yoga are each suited to a different temperament or approach to life. All the paths lead ultimately to the same destination. They all are paths to union with Spirit, Source, Brahman, God. The lessons of each of them need to be integrated if true wisdom is to be attained.​
Bio
Lisa Ware is a published author, coach, and Executive Director of Yoga 4 Love Training Programs Online Certification + Inner Goddess Retreats. In 2008 she founded www.yoga4love.com in honor of her mom's positivity and inspiration. ​She is the President of the 501c3 DFW Free Day of Yoga, and has been on the Board of Directors since 2008.​ Lisa's 'why' is to empower women to find their passion, platform and potential so that we may all live a life of vitality, abundance, prosperity and freedom.
Connect on Instagram:
Sources:
1 Excerpt taken from the book Yoga 4 Love Tools for Mind, Body and Spirit: For a Holistic Lifestyle by Lisa Ware 2 The Essence of Yoga by Deepak Chopra, M.D.
3 Quote from Shiva Rea Prana Flow Yoga
4
Copyright © 2019 Lisa Ware | Yoga4Love.com
[vc_row][vc_column][vc_raw_js]JTNDZGl2JTIwY2xhc3MlM0QlMjJmYi1wYWdlJTIyJTIwZGF0YS1ocmVmJTNEJTIyaHR0cHMlM0ElMkYlMkZ3d3cuZmFjZWJvb2suY29tJTJGeW9nYTRsb3Zlb25saW5ldHJhaW5pbmdzJTJGJTIyJTIwZGF0YS10YWJzJTNEJTIydGltZWxpbmUlMjIlMjBkYXRhLXdpZHRoJTNEJTIyJTIyJTIwZGF0YS1oZWlnaHQlM0QlMjIlMjIlMjBkYXRhLXNtYWxsLWhlYWRlciUzRCUyMmZhbHNlJTIyJTIwZGF0YS1hZGFwdC1jb250YWluZXItd2lkdGglM0QlMjJ0cnVlJTIyJTIwZGF0YS1oaWRlLWNvdmVyJTNEJTIyZmFsc2UlMjIlMjBkYXRhLXNob3ctZmFjZXBpbGUlM0QlMjJ0cnVlJTIyJTNFJTNDYmxvY2txdW90ZSUyMGNpdGUlM0QlMjJodHRwcyUzQSUyRiUyRnd3dy5mYWNlYm9vay5jb20lMkZ5b2dhNGxvdmVvbmxpbmV0cmFpbmluZ3MlMkYlMjIlMjBjbGFzcyUzRCUyMmZiLXhmYm1sLXBhcnNlLWlnbm9yZSUyMiUzRSUzQ2ElMjBocmVmJTNEJTIyaHR0cHMlM0ElMkYlMkZ3d3cuZmFjZWJvb2suY29tJTJGeW9nYTRsb3Zlb25saW5ldHJhaW5pbmdzJTJGJTIyJTNFWW9nYSUyMDQlMjBMb3ZlJTIwT25saW5lJTIwVHJhaW5pbmclMjBQcm9ncmFtcyUzQyUyRmElM0UlM0MlMkZibG9ja3F1b3RlJTNFJTNDJTJGZGl2JTNF[/vc_raw_js][vc_widget_sidebar sidebar_id="default"][vc_column_text]
SIGN UP FOR
[/vc_column_text][vc_column_text]
For Email Newsletters you can trust.
[/vc_column_text][/vc_column][/vc_row]