Goddess Ceremony Circle Flow, Join LIVE, Free PDF, Playlist + Meet Team Y4L
April 19, 2019

Posted by:

lisa
Happy Full moon!  ?
Can you feel this beautiful energy? Wow!!! So many things are being manifested from seeds planted long ago, as well as new seeds still being planted!
Saturday, April 20
11:00-11:50a Central
Spring is here! And the energy of the Christ Consciousness is abounding with PURE LOVE! ❤️ What is spring forth in your life? I have hibernated all winter and really done my deep practices, I had an almost 6 week social media break until mid January. Then things slowly began emerging into what really wanted to manifest. I am through pushing, done making shiz happen, done doing THE HUSTLE. No mas, amiga, so freaking done. I am in flowing in total alignment of what Shakti Ma, Spirit, Source, Creator/Creatrix is showing me. I am not moving in spontaneity. I am moving with precision. Here is what is showing up in my life, and how this is a benefit for YOU, dear Goddess.
As mentioned, I am doing the deep work. It is not easy. I sometimes (well, most times) want to cancel on my Self. But, ah, I persevere and move through my old friend, Resistance. Hello, Resistance. You feel it sister? I SEE YOU. And guess what I tell my old friend, Resistance, 'You are in my fu<king way.' So I move on and through, yet still so in the flow.
Flow does not mean you have it easy peasy all the time! Ganesha will throw obstacles in your way
(AKA Resistance), Kali Ma will burn down your house. Shiz will happen and you must STAY in your truth, stay WOKE and keep your thoughts on what you do want, not what you do not want. Law of Attraction is always working, whether we believe it or not. If you are new or need a refresher on this Cosmic Law, watch THE SECRET this weekend on NetFlix! This is sure to rattle out the old ways and help shift you into the proof that 'our thoughts become things'.
Scroll below for the free Download for you to use in your practices. Enjoy! I have created an OMAZING playlist for my flow at the Festival.
When you join us LIVE we are starting with ceremonial song, led by the one and only Anna Frederika Poppova of Dallas. I will finish with leading the Shamanic 9 Directions.
Everything in this flow is led with total SHAKTI MA flow and connection to Pancha Mama, Mother Earth. See you in the creation of this workshop, as your energy is what creates this, together with our Goddess Tribe.
I mentioned what is showing up for me in my life, right? We are starting a pose challenge!
30 Day 30 Pose Challenge on Facebook and Instagram: The World is my Mat
Check out these OMAZING giveaways and challenge details:
1 Scholarship for Inner Goddess Retreat
Chances to enter EVERY DAY!
Post your poses and use the 3 hashtags:

#theworldismymat #yoga4love #intuitivevinyasa
 Follow Hosts:
@positiveimagex
Meet TEAM Y4L
I want to introduce you to one of our Coaches and Orientation Goddesses! Meet Amanda L.! I am so honored to have such an amazing Team Y4L. Gratitude to Amanda, Anna, Desiree and Alana! Stay tuned for their stories!
Read Amanda's story: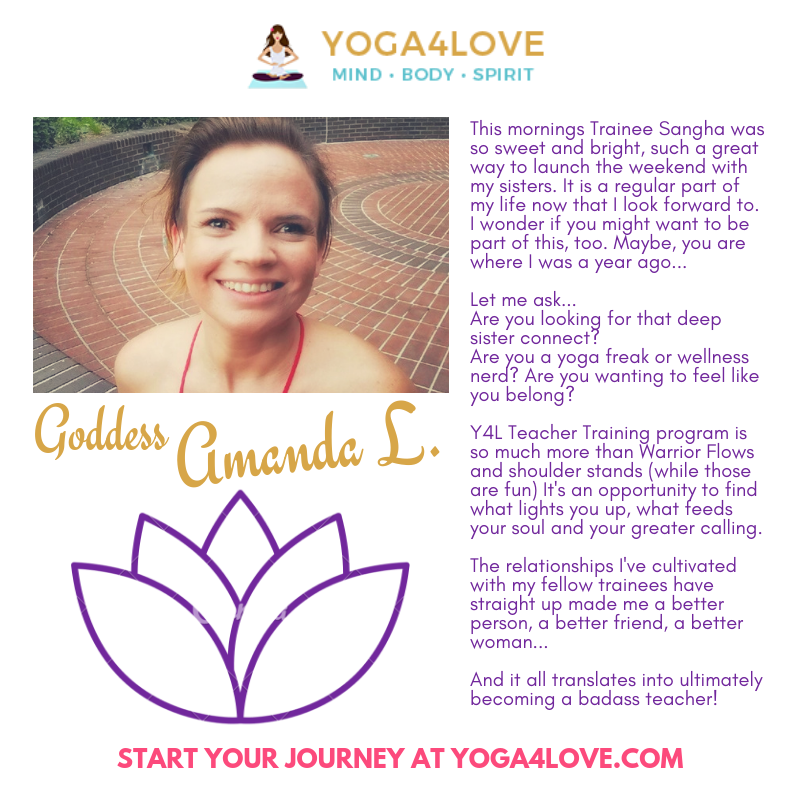 Namaste.
FREE PDF DOWNLOAD:
Search iTunes for my playlist 'EARTH GODDESS CEREMONY CIRCLE'

Namaste,
Peace, Love + Light~
SIGN UP FOR AIYLAH'S BLOGS + E-NEWS
ASCENSION UPDATES
NEW AND FULL MOON NEWS
UPCOMING EVENTS
INNER GODDESS RETREATS