30 Day 30 Pose FB & IG Challenge, HUGE Giveaways + FLASH SALE Inner Goddess Retreats
April 22, 2019

Posted by:

lisa

Category:

Uncategorized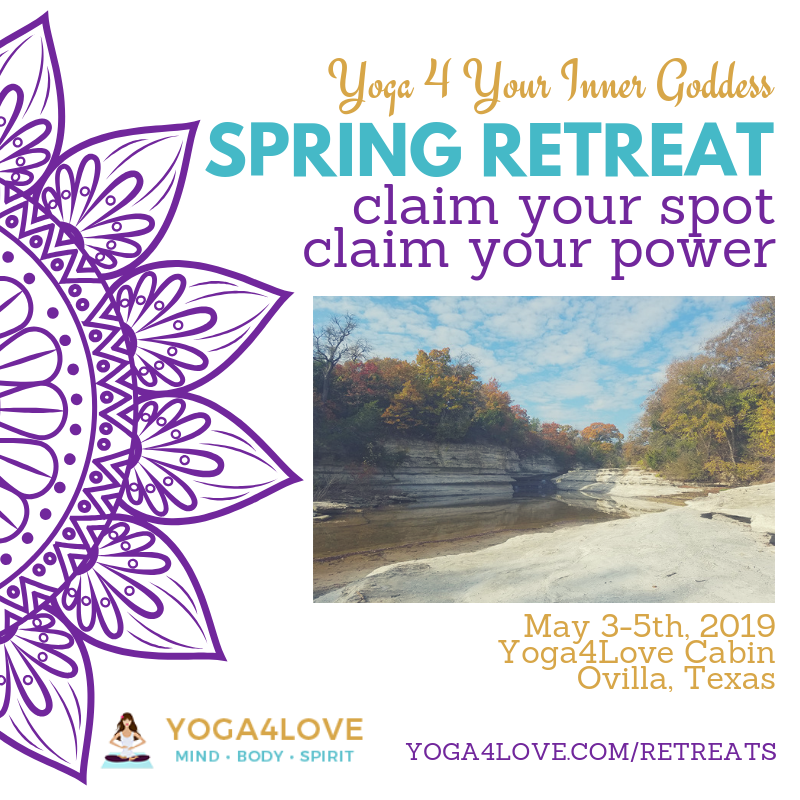 At Yoga 4 Love we create a sacred space for women. We offer refreshment of Mind, Body + Spirit while offering OMAZING workshops, time for sisterhood and bonding with your GODDESS TRIBE!
22% off code
exp. 4/23/19
EARTHDAYGODDESS
Yoga 4 Love Spring Inner Goddess Retreat
Self Care, Self Love and Holistic Lifestyle
+ Optional Field Trip to Scarborough Renaissance Faire!
May 3-5, 2019
3 Day 2 Night
Yoga 4 Love Studio Cabin
Ovilla, Tx
(25 min. south of Dallas)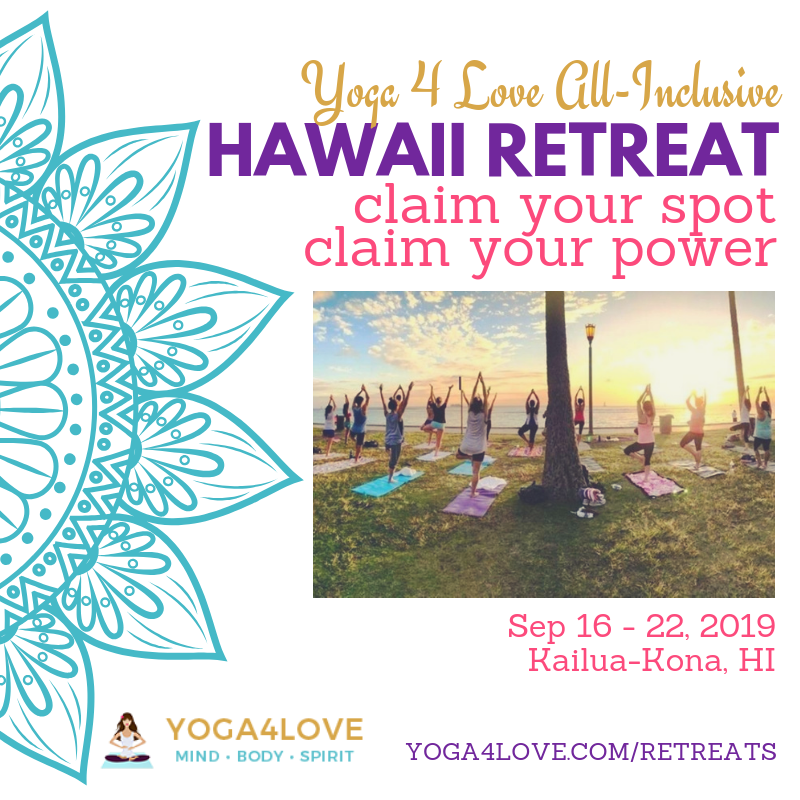 Hawaii Yoga 4 Love All Inclusive Retreat
Only 2 Double rooms left!  
Enjoy a lovely Ocean View Suite with the Kona sunsets!
Private Chef Denise Farrell
Led by Lisa Ware
September 16-22, 2019
7 Day 6 Night
Kailua-Kona Coast, Hawaii
The World is My Mat 30 Day Challenge with Yoga 4 Love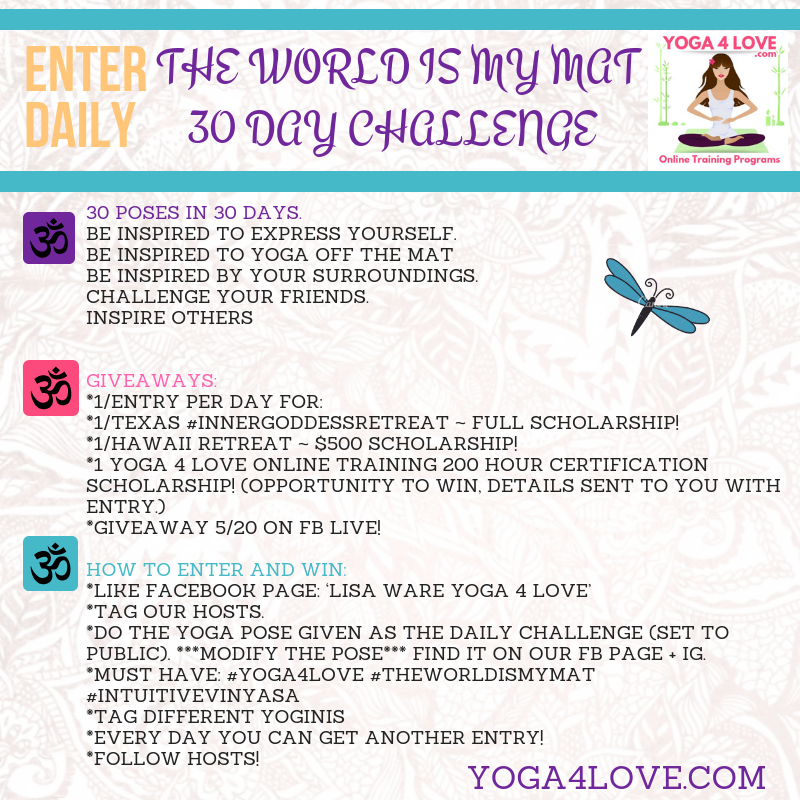 Starts NOW!
Find the pose of the day on Facebook:
Play on Instagram, too @yoga4lovelisa: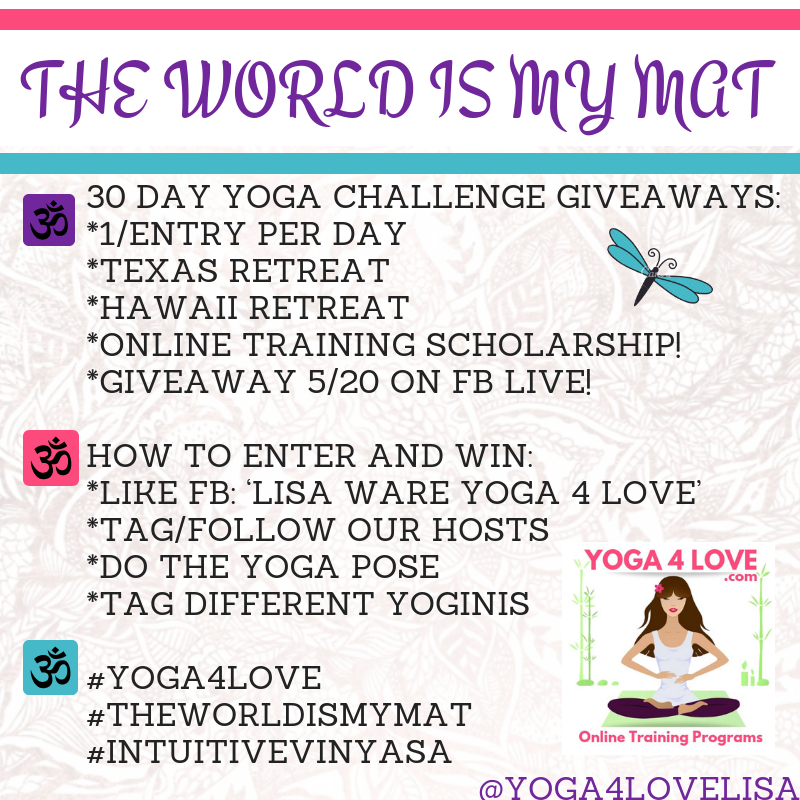 Be inspired to express yourself.
Be inspired to yoga off the mat.
Be inspired by your surroundings.
Challenge your friends.
Inspire others.
HUGE Giveaways:
1/Entry per day for:
1/Texas Inner Goddess retreat ~ full Scholarship!
1/Hawaii Retreat ~ $500 Scholarship!
1 Yoga 4 Love Online Training 200 Hour Certification Scholarship from Mariposa on the Lake!
Giveaway 5/20 on FB LIVE!
#yoga4love
#theWorldisMyMat
#intuitivevinyasa
Each post tag different yoginis
Every day you can get another entry!
How to enter and win:
Check in to the page when you post on FB
Tag @yoga4lovelisa when you post on your IG feed.
In your IG story mention @yoga4lovelisa and use the hashtags! Have fun with it!

Do the yoga pose given as the daily challenge (Post to public).
**Modify the pose, it still counts! Just go for it!**

Find it on our facebook page and our host's IG.
Each post must have the 3 hashtags and Check in to the page + tag host:
#yoga4love
#theWorldisMyMat
#intuitivevinyasa
Each post tag different yoginis
Every day you can get another entry!
Follow hosts:
@positiveimagex
During the 30 Day 30 Asana Challenge:
Our hosts will PM and/or DM you if you used the 3 hashtags! Check your inbox and receive a free Heartfelt bonus gift just for participating: Free 'Goddess Chakra Affirmations' + 'Warrior Priestess Yoga Video'.
5/20/19 the entries end
The challenge still goes on, start your personal #asanachallenge ANYTIME and end after the contest!!!
5/21/19 7:00PM Central:
Save the date~ Drawing for giveaways, FB LIVE on Biz Page 'Lisa Ware Yoga 4 Love'.
Meet Goddess Desiree of Team Y4L!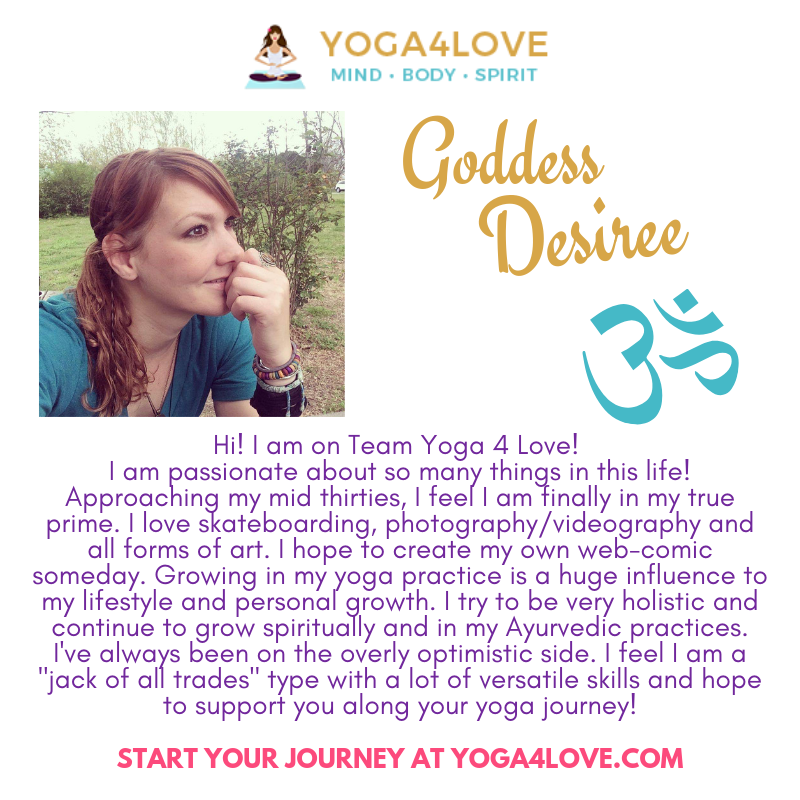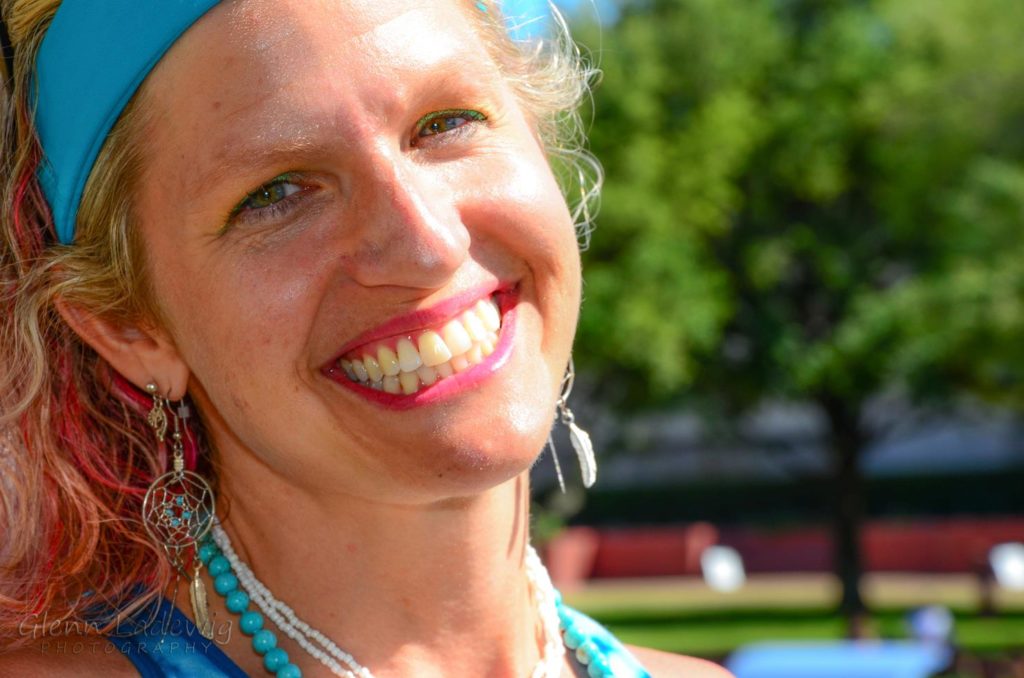 Random Earth Day Fun fact:So, many moons ago in Dallas Mr. Trammel Crow Jr. began Earth Day, now Earth Day Texas. He asked me to lead the yoga and gave us a HUGE area in Fair Park to represent the festival with yoga and music. We had a great event! This photo was taken that year at the inaugural event! 
We love our Earth Mother, tread lightly. 
xox
Peace, Love + Light~
SIGN UP FOR AIYLAH'S BLOGS + E-NEWS
ASCENSION UPDATES
NEW AND FULL MOON NEWS
UPCOMING EVENTS
INNER GODDESS RETREATS